(photo essay and intro by Chris Vollor)
A long-time friend and partner in crime from college radio days, recently bid New York farewell to take the editorial pulpit at Adweek's left coast office in LA. He regaled me with tales of tiki bars and decidedly dangerous women for months until this flatfoot couldn't wait to join the party and actually see California for the very first time.
Without a car available (oh no... not cool!) and only a few days to burn, I walked a lot and even discovered L.A. public transport. It was a great trip, but only a snapshot of a very diverse and sprawling urban environ.
As always, I was on the look out for vinyl and found Record Surplus on Pico Blvd West, thanks to a Cool and Strange Music Mag expose'. The bus ride there was a blast and I got to hear some real world LA opinions about life and love from the unambiguous conversations held in the back of the bus (where I always prefer to sit). RS has a very nice selection of reasonably priced LPs, including bins of Etcetera /Easy Listening.
A few really excellent items were added to my collection including the prize catch, an autographed copy of Bill Irwin's Seduction, featuring his wild organ beats and FX.
Further in my vinyl adventures, like an American version of Carnaby Street, kid trendy Melrose Avenue also hosted some sound dens trading in vinyl and some very interesting sights to boot.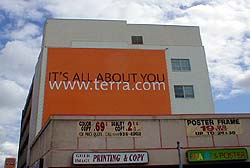 A few thrift store visits here and there and a nice outdoor market on Melrose and Fairfax yielded some nice "finds", but I dare say the LP pickings were fair at best and no match for our haunts in NYC. Of course, again... there is so much more to see that I obviously had to miss this time out.
Of particular amusement was a record shop I ran into that initially held great promise as a serious purveyor of collectible LPs. Unfortunately, it turned out to be a bit too self-effacing and rarified. Here, each LP had to be inquired after for price and every nuance of one's presence was observed. I asked about a few nice LPs but these prices were steep beyond what one would reasonably expect to pay. Just as a reality test, I floated a query for a 1979 US commercial release of old live tapes featuring Max Roach and Clifford Brown at the Bee Hive. I have seen this on numerous occasions and paid $3 for mine at my local record store here on Staten Island. Eying it with the esteem of a 13th century merchant in Venice, the bearded gentleman quoted in a professorial tone..."$30". When he saw my amusement, he explained, "these ARE retail prices!" ... I'm still grinning from that one! Without delay, I decided to make a graceful exit.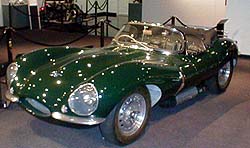 Well, there's more to life than the obsession of vinyl and I was lucky that my accommodations were also located a block from "museum row".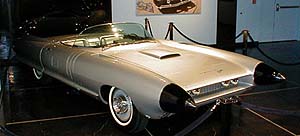 The Petersen Automotive Museum had a fine exhibit of cars including some very cool Cadillac models and those of celebs spanning the visual ethos from Speed Racer and Austin Powers to James Bond and Steve McQueen. The La Brea Tar Pits also afforded a quick but interesting detour and the lofty balcony walkway, open even when the museum closed, had some nice city views.
Tiki style and MANY great drinks were had at the highly recommended eatery/lounge Tahiti. This establishment had a large open space and low-key vibe set among tiki edifices of grandeur. Good food and reasonable prices too.
Although I had also hoped to check out a show at the renown Conga Room, I missed this by a day but took a photo of their cool sign to share with friends. Finally my personal fave "the Hair Store" was a wild an wooly (to say the least) entity on the street that was very amusing. Who buys this stuff anyway.... I guess if you need to ask, you don't really want to know!
In closing, many thanks to gentleman host Al Stewart and his colleagues at AdWeek Magazine for their hospitality, and to Bruce for a nice party and tour of the mansion. Hope you liked the views, they are just a glimpse....
gosupercool.com © 2003